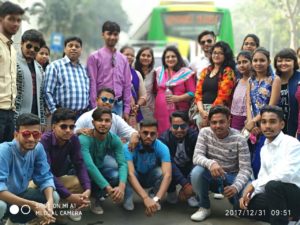 Overwhelmed with joy,44 students of std. XI/XII, along with 3(Three) teachers assembled  on 29th December'17 at Tata Nagar Station to  board the  train at around 11:50 heading  towards Mumbai. The nip in the air raised goose bumps, a chill ran down the spines but  nothing could suppress the excitement of the students.
The  students along with  teachers and a wonderful  guide began their whole day journey to  explore the best spots  of  Mumbai. On  their first day itenary they  headed off to  "Aamchi Mumbai",visited the dockyard of West Mumbai, known for  the largest export /  import  business centre the  whole city. Here the 50 minutes  boat  ride through the Arabian sea was  breath  taking .The  golden hue with  music  and  dance on the  double  decker  boat was enthralling  and  entertaining .
The  next  stop was the Gate  Way of India with  a view Taj Hotel at the  other end. followed by a ride along the "Queen's Necklace " the  infamous marine drive  of Mumbai and reached the golden Juhu  Beach, to  enjoy  not  only the beach but  also the delicacies of  Mumbai, the  day  ended  with  shopping  at  Bandra Link in road.
On the 2nd  of  January'18 the students were  at  our  favorite destination Goa/ amidst  the palm trees, surrounded by the sea in an exotic Motel. The day marked with  the revelry  of participating  as swimmers ,The children had a wonderful times at the  Baga Beach as callinguti Beach to enjoy the rides and  of course the  dip in blue sea. The most exiting part   was the cruise, where the  students danced to beats of the music. As the ship glided in the  shimmering   sea, sparkling with  reflection of   multi coloured lights.
The next day was a memorable visit to the Aquada Fort. St Frances Xavier Church and  ended with  the capture of the  beautiful sunset at  Donna Paula. The trip was exciting ,enlightening  and astounding. We would like to  thank our Management and Principal for giving  us this   opportunity for a wonderful trip