It was indeed a stupendous achievement for R.V.S Academy to receive the coveted International School Award for the second time 2017 – 20, under the aegis of British Council.The school completed seven projects with UK and other countries across the world.
The British Council is the United Kingdom's International organization for cultural and educational opportunities. This program enabled the school to collaborate with school leaders, teachers and students of different countries. It has been tremendously helpful in inculcating the global dimensions and global citizenship in teaching and learning sphere.
This program involves the whole school, working together created a strong bond among teachers and students, in counterparts spread all over the world.
R.V.S Academy developed partnership with seven schools across the world. Our partners in these projects were Egypt, UK, USA, Colombia, Argentina.
The students of R.V.S Academy participated enthusiastically in the following projects for the period  2017 – 2020.
1.     MAGIC OF RIVER  with Egypt
School Name: Dr. Ahmed Zewail Prep. School for girls, Egypt
2.     LOVE MANKIND with UK
School Name: Consett Academy, United Kingdom
3.     THREAT TO ANIMALS with USA
School Name: Marvin Ridge Middle School, near Charlotte, United States Of America
4.     GLOBLISATION AND FASHION with  Colombia
School Name: Manuel Mejia Vallejo School, Colombia
5.     NUTRITIOUS FOOD FOR SCHOOL GOING CHILDREN With Argentina
School Name: Escueladel Sur General Roca, Rio Negro, Argentina
6.     SAFETY IN SCHOOL with Colombia
School Name : Manuel Mejia Vallejo School, Colombia
7.     Fun with Technology with Argentina
School Name :7710 Puerto Pirámides Chubut Argentina
         Sharing  the Project and Exchange of ideas brought the students closer and they became familiar with the work culture of these countries.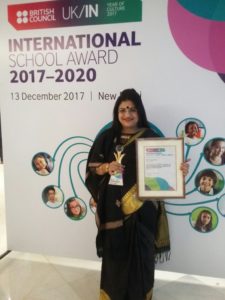 R.V.S Academy feels privileged and proud to be the recipient of the Award for the second time and gives credit to the British Council for a great step taken towards global understanding. On
 behalf of the  School, the award was accepted by the Vice Principal Mrs. Mitali Roy Choudhury on the 13th of December, 2017 at British Council Delhi. The greatest achievement was the fact
that out of 150 schools from all over India, R.V.S Academy, Dimna Road was the sole winner of the ISA award from Jamshedpur, Jharkhand. The award was given by Ying Chun Chen, the sub
division chief, Department of Education , Taipei city Government. A stupendous achievement indeed!!