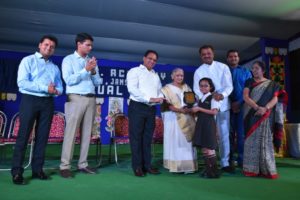 The 16th Annual  Day was celebrated at R.V.S Academy on 15th April, 2017 with great pomp and show. The programme began with the lighting of the ceremonial lamp by the Chief Guest Mr. Ananya Mittal, Assistant Collector, East Singhbhum,  , Mrs. Shyam Lali Devi the patron of R.V.S, the school Chairman Mr. Binda Singh, the secretary Mr. Bharat Singh, members of the Executive committee Mr. Shatrughan Singh , Mr. Shakti Singh, the Principal Mrs Veena Talwar, the Vice Principal Mrs. Mitali Roy Choudhury and school Co-ordinators.
The school captain Abhishek Singh presented a bouquet to the honourable Chief Guest and Chairman Sir presented a token of love to the Chief Guest . After that the students of R.V.S presented a melodius  welcome song. The Annual Report of the school was presented by the  Principal Mrs. Veena Talwar. The prizes and awards were given to students from Nursery to Std XII. After giving away the prizes and awards to the students, the Chief Guest Mr. Amit Kumar congratulated the Prize Winners and blessed them for their happy and bright future.
The cultural programme started with Ganesh Vandana which was followed by the Skit the "Pied Piper of Hamelin" which enthralled the audience. The school band presented a wonderful musical performance. A skit in Hindi "Zero Hunger" was presented. An enthusiastic carnival dance based on African Life made the audience wonderstruck. The senior boys presented a mime based on school life which made everyone presented burst into laughter. An entertaining Bhangra performance filled the whole campus with fun and frolic. The vote of thanks was given by the Vice Principal Mrs. Mitali Roy Choudhury.
The Award winners ::
A) Siroman Singh Award-
Junior Category- Meheeka  Mahato (IE)
Senior Category – Waleed Iqbal Sheikh (IX A)
B) The Best Class Award –
Primary Level- Std V C
Senior Level – Std IX B
C) Best Councillor Award – Abhilasha Kumari XI A
The programme ended with the School Anthem and the National Anthem.